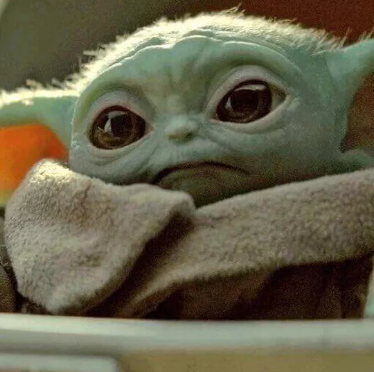 Disney
Ever since the launch of Disney+, a cultural phenomenon has taken over our hearts and memes, and that is Baby Yoda, aka The Child and also aka Grogu. Why does such a little guy have so many names? Because he's worth it! This little munchkin is by far the most important character on Disney+'s Star Wars spin-off, The Mandalorian (don't @ me), and he has become the most important creature on Twitter ever since he sauntered up to Mando with his Force powers and adorably goofy antics. He has brought us all together with his adorable wrinkled face, oversize ears, love of naps, and penchant for eating everything he can get his grubby little green hands on, so it's only natural you'd want to represent him in the real world. Your wish is our command: We found all the best Baby Yoda merch on the internet so you can obsess over him some more. Literally everyone loves him, so you can find gifts for every type of person at every age. Happy shopping!
Advertisement – Continue Reading Below
1
for your coffee-shop hang
Baby Yoda Beanie
Never thought I'd become a PacSun girl in the year of our Lord Vader 2021, but this beanie is pretty dope????
2
for when you're incognito
Star Wars The Mandalorian Baby Yoda Sweatshirt
NBD, but Target sells a hoodie that doubles as a sneaky Baby Yoda costume.  I know this is technically in the boys' section, but I know multiple adult women who own them so…draw your own conclusions.
3
for your yoga retreat
The Child Lokai
These bracelets contain one bead filled with mud from the Dead Sea and one bead filled with water from Mount Everest. It's a little crunchy granola but it's supposed to balance you—just like the Force, in theory!
4
for cocktail hour
Star Wars "The Child" Ice Molds, Set of 2
Spruce up your cold brew and/or adult beverages with this fancy Baby Yoda ice mold.
5
for your home decor
Star Wars The Bounty Collection Series 3 The Child Figure
Why get a normal figurine when you can get this cute milk mustache figurine? (Real ones know it's *technically* blue milk.)
6
for game night
Operation Game: Star Wars The Mandalorian Edition Board Game for Kids
OH MY GOD, remember Operation????
7
for when you need to hide the stuffed animals
Hideaway Hover-Pram Plush
This plush transforms. You could totally disguise it as a throw pillow. I'd never tell. 
8
for when you need someone to talk to
Talking Plush Toy
Okay but like…this toy makes noise. 
9
for storytime
Star Wars: The Mandalorian: A Clan of Two
Got a little one who loves the bébé as much as you? Cut screen time short and read about him instead!
10
for the memz
Polaroid Now The Mandalorian™ Starter Set
A Polaroid camera? With Baby Yoda on the film? Seriously, what will they think of next?!
11
for date night
Baby Yoda Earrings
We have no doubt The Child would appreciate the craftsmanship in these super-cute teardrop earrings.
12
for a huggable companion
Mattel "The Child" Plush Toy
Need a snuggle partner? This plush Baby Yoda is soft and small enough to transport. 
13
for a lazy weekend
Limited Edition Vintage Retro Sunset Baby Yoda Sweatshirt
Just because we only ever see Baby Yoda in one outfit doesn't mean he can't be a fashun icon. After all, he's the inspiration for this trendy retro sweatshirt.
14
for finishing your collection
Funko Pop! "The Child" Vinyl Bobblehead
If you (or someone you love) is addicted to collecting Funko Pop! bobbleheads, help is on the way in the form of his precious Baby Yoda edition. 
15
for an everyday staple
Embroidered Baby Yoda T-shirt
An embroidered (!!!) Baby Yoda! On a T-shirt! 
16
for dance parties in the shower
Bitty Boomers Baby Yoda Bluetooth Speaker
Crank up the cantina tunes with this adorable Bluetooth speaker shaped like our favorite 50-year-old baby.
17
for watching new episodes of 'the mandalorian'
Integrity Bottles Baby Yoda Stemless Wine Glass
We just know Baby Yoda, broth connoisseur, would also appreciate a good vintage. 
18
for sprucing up your space
Choccy Milk and Chickie Nuggies | Etsy
We can only guess what aliens like Baby Yoda would smell like, but until we find out, there's this candle to liven up your living room. 
19
for keeping track of your jams
AirPods Case
Let Baby Yoda keep track of your pesky AirPods with this cute carrying case. 
20
for staying organized
Baby Yoda Dishwasher Magnet
Anyone who lives with roommates has been through the nightmare of deciphering whether the dishwasher is dirty or clean. Solution: Stick this Baby Yoda magnet on and let it do the figuring for you. 
21
for a cozy night in
Baby Yoda Socks
The Child will keep your toes nice and dry this winter with these warm socks. 
22
for warning personal-bubble trespassers
Wear A Mask We Must Unisex Face Mask
Remind your fellow galactic explorers to stay socially distanced during the pandemic with this funny face mask. 
23
for a VSCO girl look
Baby Yoda Scrunchie Elastic Watch Band
This accessory might look like a scrunchie, but it's actually an Apple Watch band for your wrist. 
24
for your best friend's baby shower
Baby Yoda Footies, Blanket, Bib, and Hat
Give your friend's tiny tot a sprinkling of Baby Yoda's adorableness with this infant clothing set. 
25
for a quick trip to the store
Baby Yoda Face Mask
These masks are as powerful as the Force wielder himself at protecting you from germs. 
26
for chilly weather
Baby Yoda Grogu Mandalorian Star Wars Sweatshirt Disney Yoda | Etsy
Bundle up and grab a hot cup of tea like bb Yoda in this cozy minimalist fleece sweatshirt this season.
27
for board-game lovers
The Mandalorian Edition Monopoly Game
Who wouldn't want to stare at Baby Yoda's face while playing a four-hour game of Monopoly? Rack up real estate and be tickled pink by his cuteness while doing it.
28
for your Starbucks order
Baby Yoda Baby Yoda Cup Baby Yoda Grogu Starbucks Cup | Etsy
Environmentally friendly AND absolutely adorable.
29
for bad hair days
The Child Adjustable Adult Hat
When you run out of dry shampoo and can't even be bothered, you're gonna want this on hand.
30
for the closest thing to a real Baby Yoda
"The Child" Animatronic Edition by Hasbro
31
for your phone
The Mandalorian PopSockets Grip and Stand
Every time you use your phone (let's be real, it's a LOT), you'll be reminded of that smol green thing.
32
for a festive party
The Child Holiday Frogs Christmas Sweater
Show up to any holiday party with the best sweater of all time. Seriously, everyone's gonna love this.
33
for when you wanna decorate
Baby Yoda Phone Decal
Stick this decal on your phone, laptop, or wherever else you wanna see this cutie.
34
for a unique accessory
1-Inch Silver Plated Pendant Necklace or Keychain
You can either get this pendant on a necklace or attach it to your keychain to show your adoration for all things Yoda.
35
for stamping literally every surface
Hand-Carved Rubber Stamp Set
I'm not kidding. Everything is gonna get stamped with this: letters, hands, walls, and all.
36
for when you need coffee
Geeki Tikis Star Wars Ceramic Cup
Does this count as a mug? I.. don't know. But I bet your morning cup o' joe is going to be that much better in it.
37
for your car
Peeking Baby Yoda Cling
Because you're not a real fan unless you have this baby creature stuck on your car for the foreseeable future!
38
for your actual baby
Baby Beanie Hat
Sure, your little one might not have the faintest idea who Baby Yoda is, but they're sure gonna look as precious as him with these top-knot caps.
39
for when you're feeling poetic
"He Protects He Attacks He Also Takes Naps" Racerback Tank
No one loves a good nap as much as he does, TBH.
40
for extra snuggles
itty bitty® Yoda™ Plush
Alright, I will admit this is KIND OF cute.
This content is created and maintained by a third party, and imported onto this page to help users provide their email addresses. You may be able to find more information about this and similar content at piano.io
Advertisement – Continue Reading Below